The Bahamas, or more officially 'The Commonwealth of the Bahamas' is made up of over 700 islands!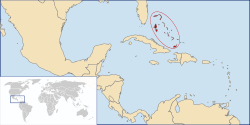 As this map shows, the Bahamas can be found south of Florida, but north of the island of Cuba, in the Atlantic Ocean. Even by looking at the map you can see the vast amount of islands that make up this country.
I have made a list of the most well known islands, as some of the islands are so small that not many people would have heard of them.
Grand Bahama Island- This is one of the most touristy of the islands as it is well known for its national parks and beaches, but it has also made a name for itself by promoting luxury holidays.

The Berry Islands- The Berry Islands are actually a mix of 30 cays, some of which are completely deserted. People go here for its wonderful dive sites.
Andros- This is the biggest island in the Bahamas, covering 2.300 square miles. Despite being the biggest it is actually not that developed, so this is the place to go to be most at one with nature.
Long Island- Home to pink sand and blue waters! This is where the Dean's Hole is found, which is the deepest blue hole in the world.
Cat Island- Like a lot of the Bahamas Islands, Cat Island is long and thin, it is also the birthplace of rake and scrape music.
Some other islands are:
The Abacos
Ragged Island
Rum Cay
Bimini
Inagua
San Salvador
Paradise Island
The Bahamas contains a lot more islands than those I have listed, the other 700 are made up of smaller island groups, such as the cluster that are collectively known as the Berry Islands.